GI Zone: Mount Lofty Ranges
GI Region: Adelaide Hills
Vineyards: 5 hectares
Grape varieties: Sauvignon Blanc, Pinot Noir, Merlot and Syrah (not Shiraz)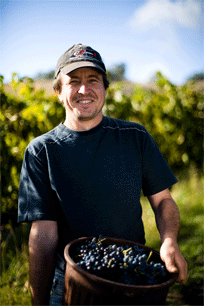 Don and Mina are grape growers, run their own vineyards, who have started to share their love and passion of wines with you. Also, sharing the happiness of spending time in the vineyard for the rest of their lives and hopefully for next generations including their son; Cesare.
We produce premium wines from our precious grapes with our hands and hearts in Cudlee Creek, Adelaide Hills.
Mina had been working as a wine connoisseur in wine bars, restaurants and liquor stores in Seoul, South Korea for 10 years.

She has completed "Bachelor of Wine Marketing" at the Adelaide University and "Diploma of International Business" at TAFE. Afterwards, she was working in a wine exporting company until she has met Don.
Now Mina has become a serious lifetime wine lover with her lifetime partner.
Don has memories when he was a child of going to vineyards with his father and grand father that they had annual events of getting the grapes and making wines for the family.

Then, in 1993, Cesare Pacella initiated a vision of producing cool climate wine grapes in Adelaide Hills, which was influenced by his upbringing in Molinara, Benevento province in Italy.
Cesare and Don planted their first block of Pinot Noir and Sauvignon Blanc in 1994 on a North-Westerly slope. Also, in 1999, they planted Merlot, Shiraz (also known as syrah in France) and another block of Sauvignon Blanc on the Northerly slope.
In the vineyards, Don and Mina adopt modern practices as well as those handed down from Don's father.


"We dedicate ourselves to grow the best quality grapes using VSP canopy management, minimal weed spraying, monitored fungicide spraying, as well as monitored irrigation and hand picking".
"VSP (vertical shoot positioning) gives us better protection from extreme heat as recently seen in past summers".
"During the ripening stage of Merlot and Syrah, we do hand leaf pluck around bunches giving us intense flavours while maintaining lower alcohol levels".
"It is a hard work, but it's worth putting all of our effort because you really can taste our hard work in the wines we made!"

The Vineyards located in the highest altitude of Cudlee Creek, off the Cudlee Creek to Lobethal Road and 525 metres above the sea level. All of our grapes have a wide range of distinctive cool climate varietal characteristics from when they are early picked to late harvest; giving us a choice of harvest time depending on the wine styles that our customers want.